The Central Coast End of Life Collective provides regular end of life events for the community in which they live.
I am pleased to say that we are well into our second year as a "Collective", and we've been working hard to pull together 9 months worth of community events, just for you!
We really hope you can make it to some of our events. And of course, we are always open to receiving requests and feedback via here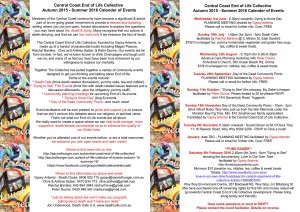 Tickets and donations for our February event, the screening of Love in Our Own Time, can be found here.
Blessings,
Gypsy
on behalf of The Central Coast End of Life Collective