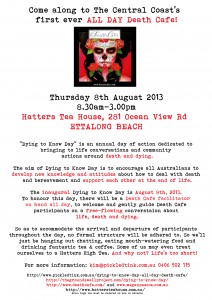 If you are interested in joining us on Dying To Know Day, just come on down to Hatters Tea House on the day. There's no need to RSVP for this particular event. We'd love to have you along! Any questions? Email me kim@pickledtink.com.au 🙂 Kim
Fact Sheet (produced by The Groundswell Project about Dying to Know Day)
What: Dying to Know Day encourages all Australians to take action toward more open and honest conversations about death, dying and bereavement.
When: Dying to Know Day is August 8
Inspired by the Igniting Change book, Dying to Know, D2K Day is a not for profit community day of action initiated by The GroundSwell Project.
We believe there is a HUGE amount of unharnessed death-related knowledge in the Australian community. Dying to Know Day provides a way for people to share knowledge and become better equipped to deal with death!
What do we know about death in Australia?
75% have not had end of life discussions
60% think we don't talk about death enough
Over 70% of us die in hospital though most of us would prefer to die at home
Very few of us die with an Advance Care Directive (less than 10 percent)
The number of Australian aged 65 and over will double by 2050
Dying to Know Day survey
We undertook an online survey in June asking about knowledge and experiences related to death. 100 people participated.
People rated Emotional Wills, Natural Burial Grounds, Do It Yourself funerals, Professional Wills, and Advance Care Directives as their top 5 topics to learn more about
People rated their knowledge as low or none 50% of the time about shrouds, natural burial grounds and DIY funerals.
The Number 1 place for finding information about death related topics is the internet and google
60-85% of respondents said they were comfortable or very comfortable talking about a number of topics including their own death/dying, making funeral arrangements, offering support to the bereaved and talking to someone about their cancer diagnosis.
Kerrie Noonan, Director | The GroundSwell Project | 0439 040 499 or kerrie@thegroundswellproject.com
www.dyingtoknowday.org