Since graduating from the School of Shamanic Midwifery a few Novembers ago now, I feel so very called to play a part in disseminating the "wisdom of the cycles". What do I mean by "wisdom of the cycles"? And WHAT cycles??!!
When we look closely and pay attention, it is evident that many cycles influence our lives on a daily, weekly, monthly, yearly basis. This applies to women and men alike, though perhaps more strongly for women due to our beauty-ful menstrual cycle.
The "wisdom of the cycles" connects in with the learnings and teachings that all of these cycles can help us recognise & tap into. That is, wisdom relating the Self, Other and The Earth. There is deep wisdom and learning to be found in our daily cycles, our menstrual cycles, the lunar (moon) cycles, the seasonal cycles, and our life cycles. This workshop explores these cycles with the intent being for us to identify the natural rhythms existing within them, consider how to align our Selves with them (perhaps more deeply if you are already feeling quite connected) and consider why we would actually even bother trying to do this in the first place!
The flyer below is pretty thorough…so once you have a read, if you feel you have additional questions or need to clarify anything, please do give me a call or SMS – 0406 502 715
One question I often get asked is "What if I no longer bleed?" or "What if I've had a hysterectomy?". And my answer to that is you are still a woman, with an energetic womb that most likely once bled, and you are still influenced by a variety of cycles….so please, come along and join us!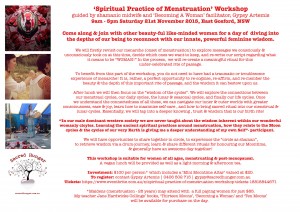 Blessings,
Gypsy x