A sacred space for women & men
to come together in circle to deepen connection to
Self, Other, Mother Earth & Great Spirit.
"It is time for us to stop merely gathering
separately in "women's" circles & "men's" circles.
It is time to bring the divine, healing
& healed feminine & the divine,
healing & healed masculine together
so that we can share our
gifts, grow & explore, & together,
create a new paradigm for
interconnection, love & relationship"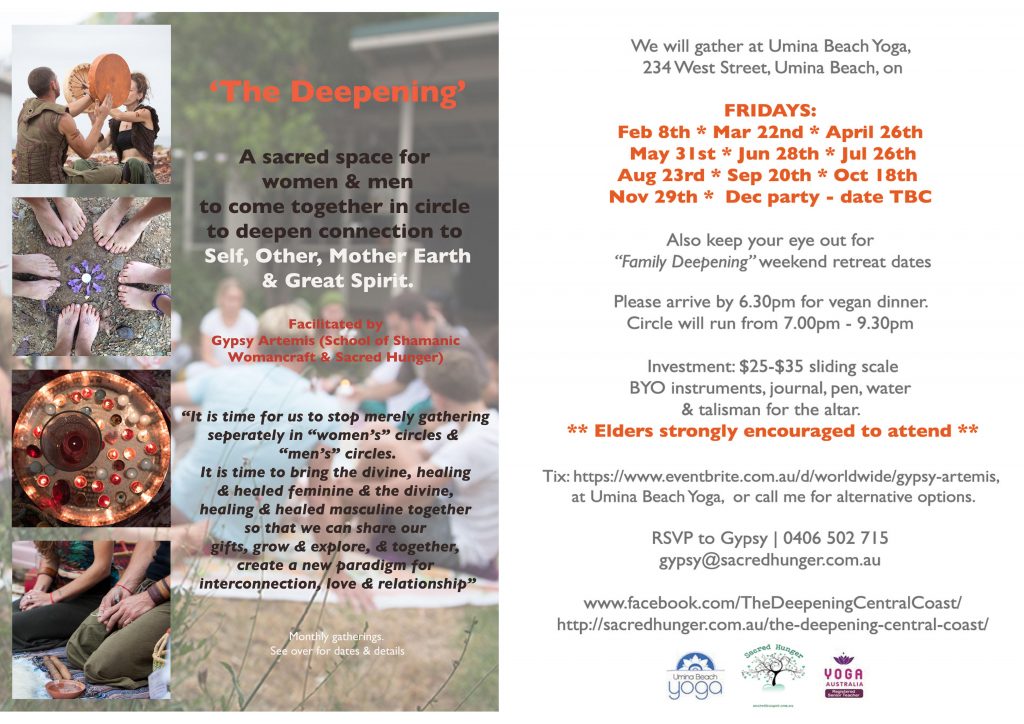 The Deepening Central Coast is in its third year of operation, and the final gathering of 2018 saw us catapulted into a new way of being in this beautifully held, sacred space.

We found ourselves opening further…deepening…connecting in ways that we have not before. There was MAGIC and WONDER and genuine, deep enquiry.

We experienced vulnerability…authenticity…POLARITY! It really was amazing. 13 brave open-hearted souls showing up, for themselves and all their relations!

2019 sees us in a great new venue at Umina Beach Yoga (thanks Carloyn and Helen for the warm welcome and for "getting my work in the world!) and we are so excited to be back on track with regular monthly circles now that my son (aged 2) is more manageable and with his dadda regularly.
Have you grabbed your ticket? 

https://www.eventbrite.com.au/o/gypsy-artemis-of-pickled-tink-and-sacred-hunger-8009096961
Any questions? 0406 502 715

Love Gypsy and The Deepening Team xxx