It's not the grandest of tours, but it's a tour none the less!!!
I'm pleased to announce that on Saturday 30th May, I will be running my much loved Menarche Healing Workshop in Upper Lansdowne. Not sure where that is? It's near Taree, Port Macquarie, and Wingham.
Tickets are available here: https://www.eventbrite.com.au/e/menarche-first-blood-healing-workshop-tickets-16812874761
And the flyer is here 🙂

When I ran this workshop at Regrowth Festival recently, the 34 women attending had quite profound experiences. Here's what they had to say afterwards: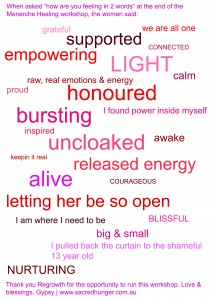 So if you live in the Upper Lansdowne area, or know someone who does, you may like to come along and also share this page with them. Whilst we may not feel "scarred" by our menarche experience, we may also not feel fully empowered. Attending this workshop provides an opportunity to reclaim your menarche and re-write your script about what it means to be a full-power, anything's possible, woman!
For more info email me here gypsy@sacredhunger.com.au or call 0406 502 715
Blessings,
Gypsy xx