Hello beauty-ful people!
We have 2 places left on our up-coming Shamanic Medicine Drum Making Workshop on the Central Coast on February 6-7, 2016.
Here's the link to the Fb event listing.
And here's the flyer again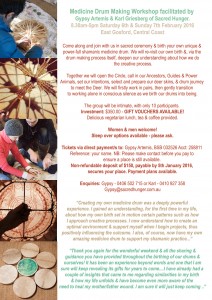 Enquiries and late registrations welcome as we have ordered supplies for a FULL WORKSHOP!
Blessings,
Gypsy 0406 502 715